4 Tips to Consider When Choosing Your Glass Shower Doors
Although often underappreciated, the bathroom is one of the most important rooms in the house to renovate. Although it may not be where you spend most of your time, its functionality is imperative to your quality of life, and the design can be one of the biggest factors in determining the value of your house. If you're looking to sell your home for top dollar—or simply upgrade your bathroom for your personal use and enjoyment—installing new and updated glass shower doors is crucial. Here are five tips for choosing the best glass shower doors for your property.
1. Your Budget
Although it isn't the most fun part of the process, the first and most important thing to consider when doing any remodeling is your budget. What you can reasonably afford will dictate what your options are when renovating. You should never spend more than what you can afford, especially since there are so many luxury finishes available at an affordable rate thanks to modern manufacturing advances. Frameless glass shower doors from Golden Glass are available within virtually every budget, and we're always happy to provide a free estimate so you can ensure that you're staying on track with your project finances.
2. Level of Upkeep
Transforming your shower can help you better unwind at the end of the day or start your day on the right foot. It's a small detail that can have a great impact on your mood and the atmosphere of your home. However, if you choose a material that's too high-maintenance, your shower doors can actually cause more stress than they're worth. Frameless shower doors are a low-maintenance option that homeowners love because it eliminates those pesky hard-to-clean areas that can host bacteria, limescale, and other unpleasantries. Choosing a shower door with open ventilation at the top versus a sealed shower door can also help you eliminate extra cleaning time, allowing you to spend more time relaxing and enjoying your new bathroom.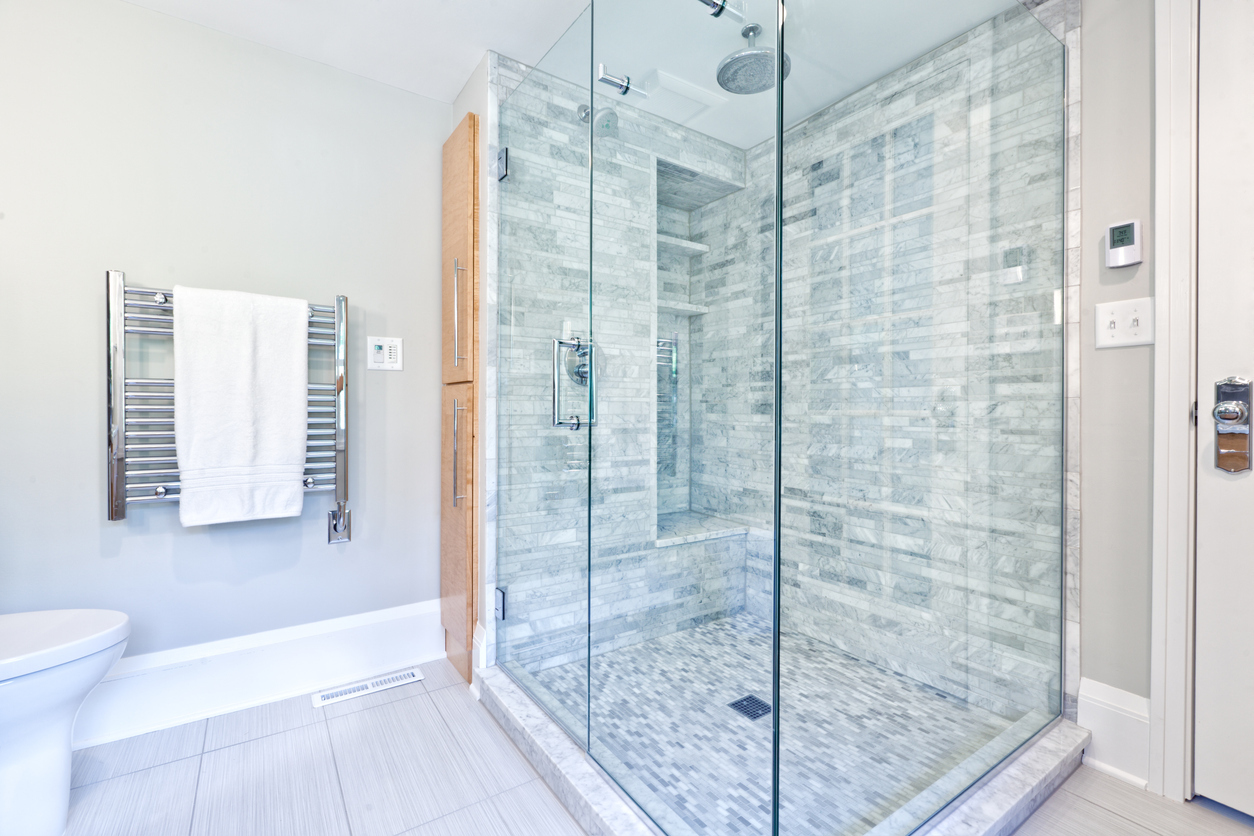 3. Home Design
As with any interior renovation project, your new glass shower enclosure should match your home's existing design style. Fortunately, frameless glass shower enclosures are easy to match with virtually any home aesthetic. Choose hardware that matches those of your bathroom cabinets or vanity. Otherwise, the interior tile will be the biggest factor in how your shower matches the rest of your bathroom. Glass shower doors' sleek and sophisticated appearance will complement virtually any design style.
4. Resale Value
If you're thinking about selling your home sometime in the future, renovations should always be made with resale value in mind. Modern touches such as frameless glass shower doors are almost always more appealing to buyers than more traditional styles, and so they can increase the resale value of your home. Bathrooms and kitchens are the two rooms of the house that can earn you the most equity with high-quality remodels, so if you'd like to maximize your profits when selling your home, you can't go wrong installing a glass shower enclosure from Golden Glass.
If you're a homeowner looking to install new glass shower doors, look no further than the experts at Golden Glass. We're the nation's premier residential architectural glazing contractor, with decades of 5-star ratings to attest to our quality craftsmanship. Let Golden Glass help you create the glass shower enclosure that best enhances your home's style by calling (800) 64-GLASS today. One of our team members would be happy to talk you through our services and give you a free quote for your next project.
https://goldenglass.com/wp-content/uploads/2021/02/iStock-1221362829.jpg
724
1449
Golden Glass
https://goldenglass.com/wp-content/uploads/2020/04/GOLDEN-GLASS-BUILDING-ENVELOPES-300x138.png
Golden Glass
2021-02-22 17:10:27
2021-02-22 17:10:27
4 Tips to Consider When Choosing Your Glass Shower Doors