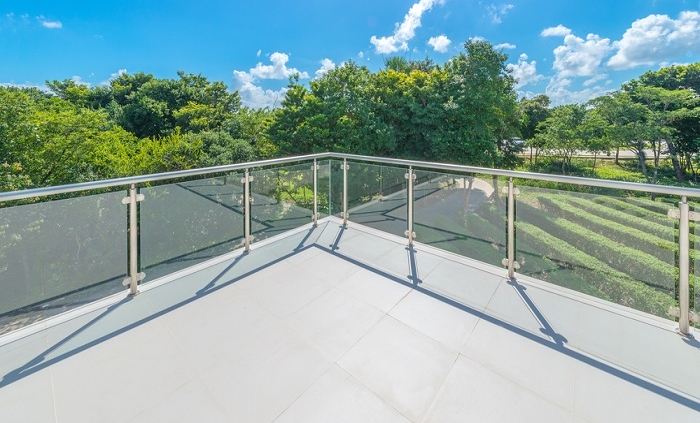 Top 5 Advantages of Installing Glass Railings for Your Deck
From elevated backyard decks to sweeping balconies, finished outdoor space is a highly desired aspect of any property. It adds extra space for your family to gather and bond while allowing you to enjoy beautiful weather and a relaxing atmosphere. If you're looking for the perfect finishing touch for your new deck, glass handrails offer safety and durability while boosting visual appeal, and even property value, regardless of your home's design style.
1. Visual appeal
Homeowners are opting for glass railing systems due to their tremendous visual appeal. As contemporary styles become the popular trend, glass home design features such as glass handrails are being chosen due to their sleek and modern appearance. If you find a wooden or metal deck railing to look too clunky and traditional for your tastes, glass railing systems will achieve the elegant and modern design style you're striving for. 
2. Design versatility
Another advantage of installing glass railing systems for your deck is that they suit virtually every home design. The neat and minimalistic nature of glass allows it to be paired with any other design elements to create a style that perfectly suits your home. Pair tempered glass railings with wood accents for a more rustic and natural look, or complement it with metal finishes for a contemporary design. Whatever your design goals are, the versatility of glass railing systems will work in perfect harmony.
3. Unobstructed views
If your deck overlooks the sea, a forest, or any other tranquil spot, glass railing systems allow unobstructed views for a breathtaking experience. Enjoy panoramic views of the city lights, or feel like the ocean is right at your doorstep. If you want to enjoy the views your outdoor space has to offer, don't block them with awkward wood beams; invest in elegant and understated glass railing systems from Golden Glass.
4. Durability
Many homeowners' main concern with glass railing systems is that they'll break easily. However, glass handrails are generally made with one-quarter inch thick tempered glass, which makes them exceptionally strong and resistant to cracking and shattering. Everyday use and stressors won't damage your glass handrails, and they're a perfect option for those seeking a low-maintenance deck for their home.
5. Safety
Many people don't realize that glass handrails are actually one of the safest and most secure railing options available. Whereas wood and metal railings typically have slats between the rails which easily allow objects to fall through, glass railings create a solid wall structure all the way around the perimeter of your deck. This helps ensure that there are no dangers to kids or pets, including getting stuck in the railings or dropping belongings through the bars. If you have little ones at home that raise a safety concern, glass railing systems are the ideal family-friendly solution.
Glass handrails and banisters are more than just a safety feature; they offer great architectural enhancements to your home. Sleek, modern, and easy to maintain, a glass railing system can add value to your property and tie together your contemporary design style. If you want to elevate your home with subtle sophistication, investing in glass handrails from Golden Glass is the perfect final touch. Give us a call at (800) 64-GLASS to find out more about our glass railings or to receive a free quote for your next project.
https://goldenglass.com/wp-content/uploads/2020/03/rail3r.jpg
500
700
Golden Glass
https://goldenglass.com/wp-content/uploads/2020/04/GOLDEN-GLASS-BUILDING-ENVELOPES-300x138.png
Golden Glass
2021-03-25 16:15:26
2021-03-25 16:15:26
Top 5 Advantages of Installing Glass Railings for Your Deck