Top 5 Things to Know About Glass Handrail Systems
Glass handrails have become an increasingly popular addition for residential and commercial properties looking to modernize their aesthetic. When implemented well, they can be visually stunning and functionally safe. With Golden Glass being the leading experts in glass handrail supply and installation in Fullerton, and the greater Orange County area, we have come across our fair share of inquiries regarding glass handrails for home design. For your convenience, our glass professionals have provided 5 points to consider when you are ready to implement glass handrails into your residential design. 
Safety and Local Building Codes
Before actually beginning the process of installing glass railing to your property be sure to check your local building codes to see what sort of safety glass is permitted. Two types of glass known for their safety factors are laminated and tempered glass options. Laminated glass is considered one of the strongest glass panel options and when broken, only one side of the glass shatters while the other remains intact. On the other hand, tempered glass, if broken, would shatter into smaller harmless pieces. 
The Various Styles of Glass Railings
There are various glass railing systems that contrast aesthetically and structurally from another. Standoff, dadoed, and clamped glass railing are three prominent systems used. Standoff glass railing is where the glass panels are secured with stainless steel cylinders. Dadoed glass railing is a system where the glass panels are secured from top to bottom within a wooden frame. Meanwhile, with clamped glass railing, the glass panels are secured with glass chips attached to steel or wood posts. Knowing what you want out of your residential glass railing system will assist in deciding which system you choose.
Minimal Required Maintenance 
Glass railing does not require as much maintenance as other handrail systems. However, you'll want to periodically clean your railing to maintain its stylish appearance. It'll be best to avoid using any abrasive cleaning materials because of the permanent damage it can cause to materials like stainless steel.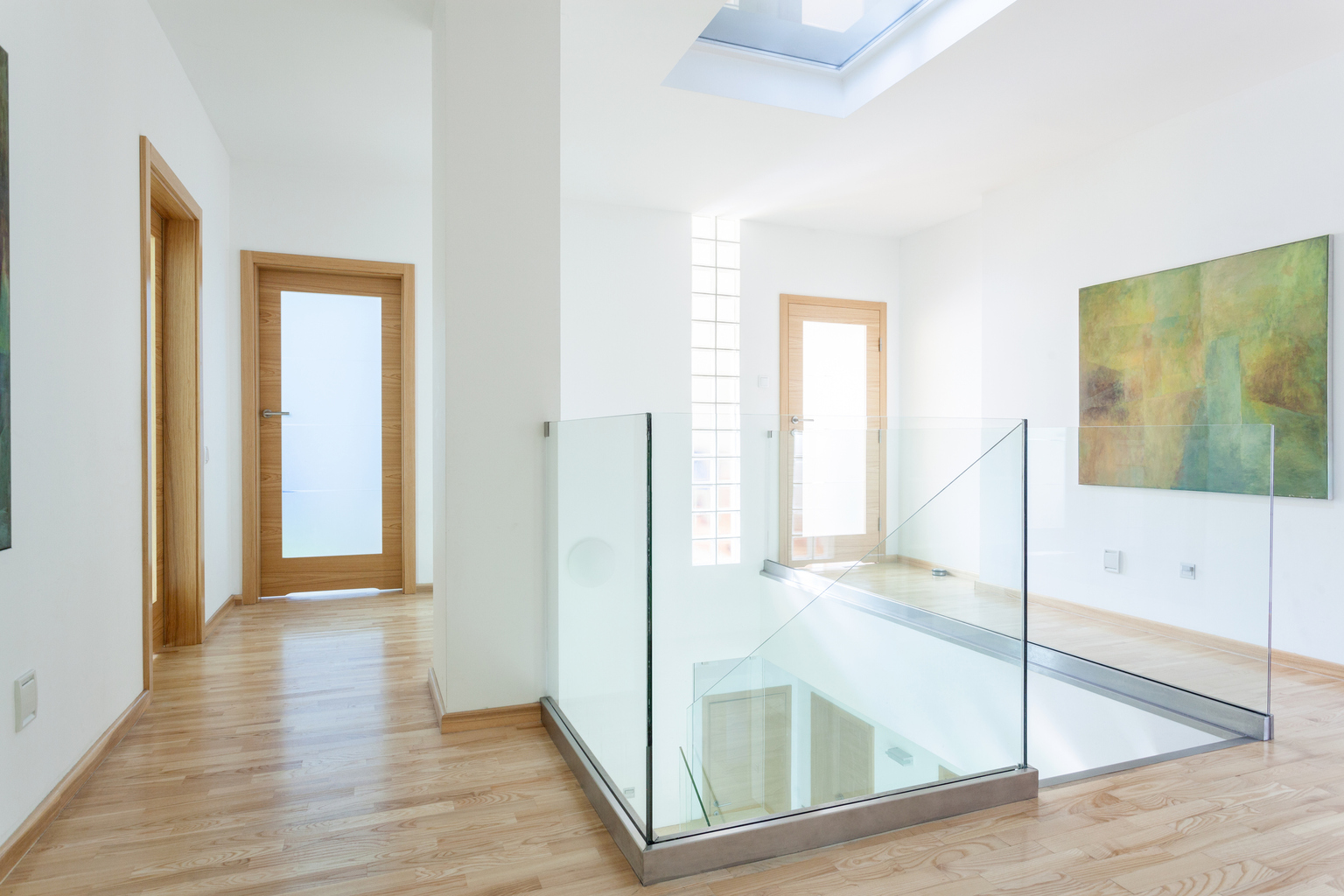 Glass Handrail Systems Cost and Budget
Glass railing can vary in cost depending on the system utilized. A few elements that can factor into a system's cost are; hardware, construction, and quality of glass to name a few. For example, a dadoed glass railing can be a low-cost option because there's no required expensive hardware and the process of construction is not as extensive. With systems like standoff glass railing, the quality is usually determined by how much you choose to invest in materials such as stainless steel. Ultimately, glass handrails and banisters are more than just a safety feature; they also offer great architectural enhancements to your home, elevating your overall architecture, and thereupon increasing your home's value. 
The Glass and Glazing Experts You Choose Matters
No matter what system or materials you choose to utilize, the key to a beautifully designed and safe glass handrail is the company tasked with installing it. To prevent install mistakes, and ensure your home project is in trusted hands, you'll need an experienced group of professionals who you can rely on to get the job done well. With over 30 years in the industry, Golden Glass has proudly earned the trust of every client and every Orange County household we have had the privilege to work with.
Whenever you are ready to elevate your handrail and banister systems, our expert team based in Fullerton provides unmatched glass handrail installation, repair, and replacement services for commercial and residential projects. If you're interested in what Golden Glass can do for you, or have any questions regarding our process or services, give us a call at (714) 449-8989, or fill out a form online. We look forward to assisting you!
https://goldenglass.com/wp-content/uploads/2020/11/iStock-129179692.jpg
1024
1365
Golden Glass
https://goldenglass.com/wp-content/uploads/2020/04/GOLDEN-GLASS-BUILDING-ENVELOPES-300x138.png
Golden Glass
2020-11-30 18:22:14
2020-11-30 18:23:15
Top 5 Things to Know About Glass Handrail Systems