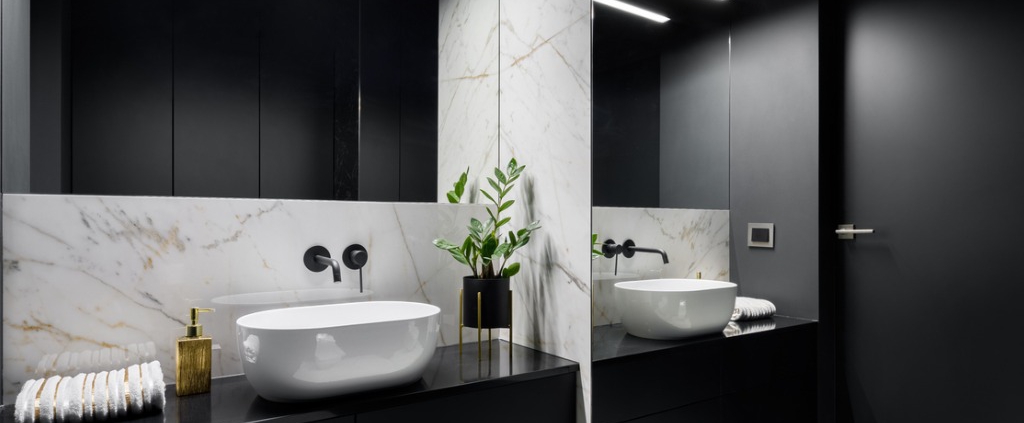 6 TIPS TO DECORATE YOUR HOME WITH MIRRORS
Mirrors are not only used to look at yourself before heading for work, school, or any type of social event — they're also a great foundation for improving your household's aesthetic. At Golden Glass, we can work with you in finding the right mirror design and glass design to fit your home's aesthetic look. Through our replacement, installation, and repair services, we offer the highest quality service from our experts to ensure your Orange County home looks the way you dreamed. Next time you're working on a new house project involving glass and mirrors, consider these tips for the optimal mirror aesthetic.
OPENING UP YOUR HOME'S ENTRYWAY
If your household's entryway is dark or crowded, you can utilize mirrors in your hallway to make it feel more open and inviting, even playing on existing light for an airier effect. Mirrors are a great way to add the illusion of having more space and an excellent way to open up any room, not just your entryway.
THINK ABOUT WHAT YOU WANT TO REFLECT
When looking to add mirrors to any room, the goal is to enhance the room's aesthetic by reflecting your favorite elements. The proper placement will not only add a personalized touch to any room but can give the illusion of a bigger space, which comes in handy when working with smaller spaces. If your window has a gorgeous view, place your mirror on the opposite wall so you can get a good view at a different angle. However, you should be careful with any windows facing east and west since the sun can easily reflect towards your mirror. Whether you're looking to be amazed by the design of your newly remodeled bathroom or bedroom, Golden Glass offers the best mirror installation service that can accommodate any project you're working on. We'll custom design and fabricate any type of mirror that fits the foundation of your preferred room.
A WAY TO ENHANCE YOUR PLANTS
If you have plants in your home, you'll want to find the best spot for them to get the proper amount of sunlight. You can utilize your mirrors not only as a way to appreciate their lustrous beauty but as a great tool to direct the sun towards where the plant is placed. Whether you have climbing greenery, or vibrant florals, placing a mirror behind your plant can add drama and the illusion of more lush foliage. This option also allows you to monitor your plant's growth without disturbing its peace. Whatever your creative heart desires, Golden Glass offers a vast array of mirror options to suit your needs.
SHOW OFF YOUR ART
If you have a specific portrait or artwork you want to highlight, placing mirrors around your room can be a fun way to echo your unique pieces without compromising space. Golden Glass offers mirror installation services that can help show off your art pieces by drawing eyes to them, and giving them the proper attention they deserve!
MIRROR GROUPING
No matter the size or shape of your mirrors, you could place them together on your walls to create a unique gallery effect. Whether in your bathroom, bedroom, or any room in your household, having a set of mirrors can help build your room's aesthetic appeal. At Golden Glass, we offer the best mirror replacement service to help you transform your room into your own personalized house of mirrors.
PLAY WITH PATTERNED MIRRORS
For those looking to use mirrors as art, try implementing etched or patterned mirrors. Not only are these mirrors nice to look at, but they are also the best option when looking to enhance and reflect abstract colors. 
These are just a few ways you can decorate your home with mirrors, but the possibilities are as limitless as your imagination. At Golden Glass, we offer custom mirrors ranging from closet mirrors to bathroom vanity mirrors so you can pick out the right mirror of your dreams for your Orange County Household. We also offer skylight and custom glass handrail services to enhance the interior of your home design — whether its themes are modern, contemporary, or beachy. For more information about our repair and installation services for your glass products and mirrors, call us at (800) 644-5277 to get a free quote or fill out a form for more information on what we have to offer.
https://goldenglass.com/wp-content/uploads/2020/12/black-bathroom-with-mirror-wall-picture-id1185718176.jpg
768
1024
Golden Glass
https://goldenglass.com/wp-content/uploads/2020/04/GOLDEN-GLASS-BUILDING-ENVELOPES-300x138.png
Golden Glass
2020-12-31 16:33:00
2020-12-31 16:37:00
6 TIPS TO DECORATE YOUR HOME WITH MIRRORS